OUR MISSION STATEMENT
Wildfire at First Presbyterian Church Joliet exists to spread the Good News like wildfire–all-consuming and hard to extinguish. We aim to be bearers of the Holy Fire which is purifying and great. We are mighty warriors of our faith, despite our age, and rise up to be examples in our speech, conduct, love, faith, and purity. We are a wildfire for Christ and we cannot be stopped!
SUNDAY NIGHT YOUTH GROUP
We meet regularly on Sunday nights during the school year for faith and fun! We study God's Word, build relationships with peers, and sometimes we have games too!
SUMMER SERVICE/MISSION PROJECTS
Each summer, our high school youth spend a week on a mission trip out of state to serve others while growing in their faith, while the junior high kids spend several days serving in our local community.
June 24-June 30, 2018 our kids will travel to Kansas City where we will learn about the Latino culture while serving through home repair projects and children's programs!
PERMISSION FORMS
These permission slips are good for the year and allow the youth to participate in activities through FPJ. You can download the form here and turn it into Karissa.
NO YOUTH GROUP:
12/24
12/31
GUEST SPEAKER
Dec. 10
Ken Graham
6:00pm-7:30pm

FINALS STUDY SESSION
Dec. 13
Begins after Family Mid-Week Dinner-7:15pm

CHRISTMAS PARTY
Dec. 17
Begins after the Christmas Musical-7:30pm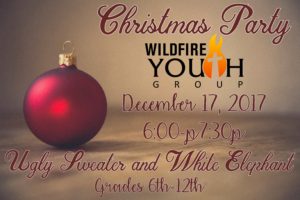 CAROLING
Dec. 20
Begins after Family Mid-Week Dinner-7:15 p.m.