A glimpse into our history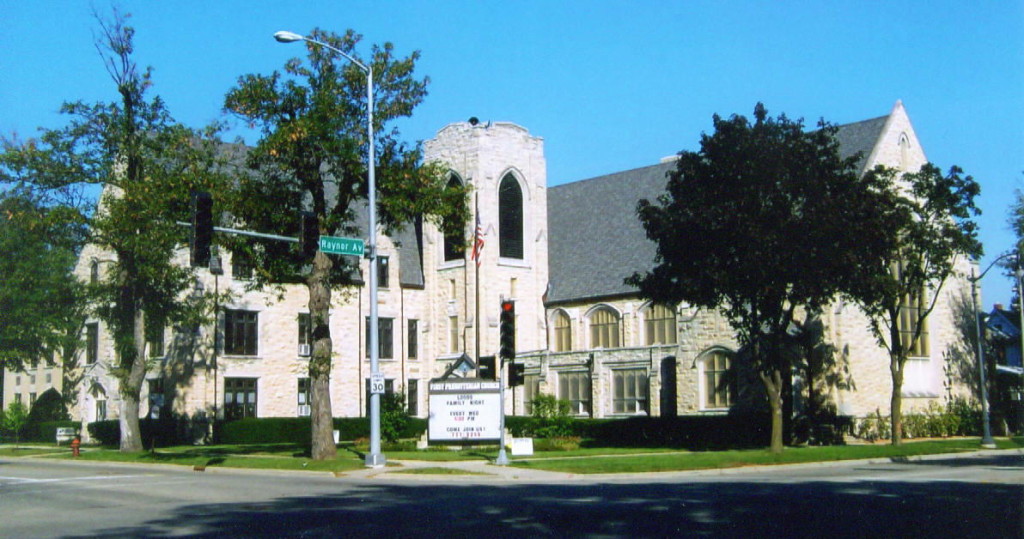 First Presbyterian Church was founded on August 3, 1866 with 28 members and on December 22, 1867 the first church, located at Western and Broadway, was dedicated to the service of God. Beyond the walls of this church lives a dynamic congregation that has made a tremendous impact in the Joliet community. In 1988, First Presbyterian Church laid the foundation for the Will-Grundy Medical Clinic where people from different walks of life can find quality primary, diagnostic and therapeutic medical care. 150 years later, the Church continues to stay connected and involved with local missions and organizations that continue to serve the Joliet community, such as MorningStar Mission, St. John's Mobile Food Pantry and Habitat for Humanity, continuing the tradition to be a Christ presence to the people of Joliet.
Read more of our story – Here
Architecture and Christ Window
The church is not a building, but people. These people are different from others in that they are disciples of Christ. To be a disciple is to be a learner, so the Church comes out of the world to this sanctuary in obedience to Christ's command, "Learn of me … "
Those words have always inspired the congregation of First Presbyterian whenever it came to finding that perfect fit between a practical, beautiful place of worship and a place of ministry and learning. The 1926 new English Tudor Gothic style building at the corner of Raynor and Western in Joliet, is a beautiful building with solid masonry, faced with Joliet rock-faced ashlar limestone, that just fits in the Cathedral Area of Joliet. The Sanctuary is decorated with an exquisite mural – The Christ Window, that depicts the story of Christ in a wonderful mix of glass and symbols. You can read more about the Christ Window
here
Ongoing Projects
Our church beliefs state that each person in our congregation is gifted with individual contributions to make. We were blessed to have nearly fifty members of our congregation who supported the recent Landscape Beautification Project. Over $10,000 in personal donations were received! A special thank you is extended to those who helped during many weeks of weeding and planting.
A variety of pictures of the exciting update results are posted on our website for your enjoyment. Improvements began at the Western Avenue entrance and gradually completely surrounded our church. There will be an explosion of colorful flower bulbs to look forward to each spring, and further work will be done on the parking lot south of the church.
If you have interest in joining our Landscape Committee, please let us know by approaching one of the committee members or a staff member. Contact information is posted on this website. Plans will be made to continue the work and the upkeep of our gardens going forward. All gardeners are welcome! Donations are also welcome toward the future south parking lot updates.
Once again, thank you one and all for the love and generous support that you have shown our church home. May God bless you!
First Presbyterian Church Landscape Committee
Co-Chairs:
Kay DeGeus & Karen Myers
Committee Members:
Susan Lee, Joan Paul, Jana Rudisill and Sue Streitz
New members are always welcome! Please let us know if you would like to join our group. Thank you!