We believe that God created His people to be in community and that women are empowered and strengthened in their faith and in their lives when they are together. Just as Jesus' disciples learned how they were called to live as followers of Christ in a group, we believe we are called to follow Jesus together as we learn, laugh and serve. This ministry is open to all women age 18 and older, both inside and outside our church membership.
As iron sharpens iron, so one person sharpens another.

Uplifting
Supportive
Inclusive
Inviting
God focused/Christ centered
Understanding
Patient
Open Minded
Prayerful
Diverse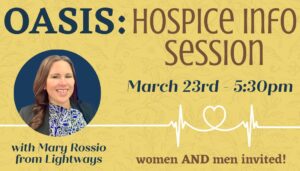 Lightways Hospice Info Session
March 23rd – 5:30pm – Hoffman Hall
A 30 min. presentation
about services hospice can offer, including serious illness care, end of life care, and grief counseling. Time for questions after, and a light meal following.
EVERYONE is invited – not just women!
Register HERE Or contact the office or Oasis

2023
January:
Bunco Night
February:
Comedy Night
March:
Hospice Information Session
April:
Attend play
May:
Gardening seminar/plant exchange/tea party
June:
Field trip to Christ of Passion Gardens in St. John, Indiana
July:
Dinner and a movie
August:
Craft cards/deliver to veterans
September:
Morton Arboretum
Smaller events, such as coffee or wine get togethers, hikes, movie nights, etc. will happen throughout the year as well.